Averill Court is an agent for all of the local tour operators. We can provide information and booking services free of charge for activities such as boat cruises, dolphin watching, fishing, sailing, bus tours up Ninety Mile Beach to Cape Reinga, horse treks, quad bikes and much, much more.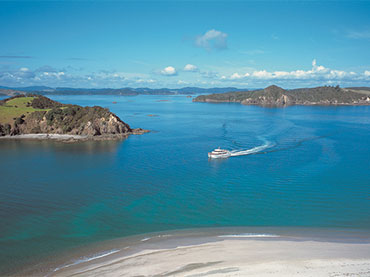 Water Activities
All boating departures are just a 10-minute walk along the waterfront and bus tours will pick up and drop off at the motel entrance.
Boat tours include Hole in the Rock, half-day and full-day island visits, speed boat trips, sailing (tall ship, racing yacht and charter yacht), swimming with dolphins and much, much more.
Only 1-minute walk from the motel you will find parasailing, catamaran hire and kayak hire.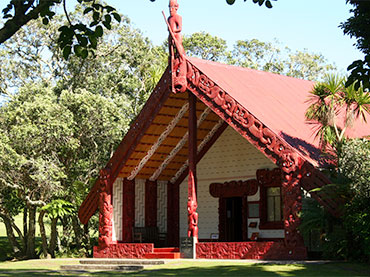 History
If it is history that interests you, two of the must-see attractions are Waitangi, a 5-minute drive away, or Russell, 15 minutes by ferry.
Waitangi is the birthplace of New Zealand, where the Treaty of Waitangi was signed between the Maori and colonisers in 1840. A guided tour of the beautiful grounds and Whare Nui (carved meeting house) overlooking the sea is a must. Go back in time as you explore the original Governor General's house, which has been restored as a museum, and see the 30 metre-long waka (canoe).
Russell, a lovely little village, was originally a whaling settlement and is home to the oldest pub in the country, a church with musket fire holes and many other historical buildings.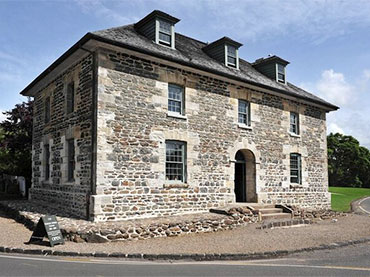 Kerikeri
With a little more time to spare, you could take a 15-minute drive north to Kerikeri. En route stop off at Haruru Falls for photos and a nature walk.
Kerikeri has many things on offer – further historical sights and tours, including the famous Old Stone Store, acclaimed vineyards, Makana chocolate factory, locally grown fresh produce and more retail outlets to satisfy the shopper.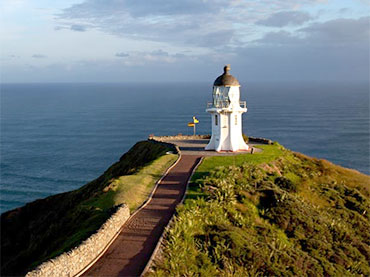 Cape Reinga
Cape Reinga tours pick up daily from the entrance to Averill Court Motel.
The full-day tours include Ninety Mile Beach, Cape Reinga and Mangonui. Cape Reinga is the northernmost point of New Zealand, has spectacular scenery and is of particular significance to New Zealand Maori.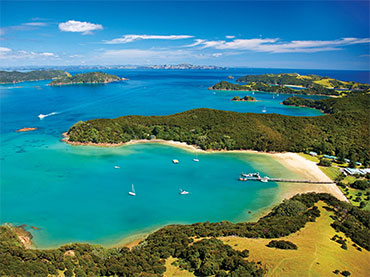 Fullers GreatSights: Cream Trip – Day in the Bay
Take part in the Bay of Islands most famous cruise. The "Cream Trip" began in 1927 and remains a popular cruise with tourists today. You will have a full Day in the Bay including dolphin encounters and swimming (additional fees apply), discovering the Hole in the Rock, delivering mail, boom netting, island stopover for lunch and learning the history of the Bay of Islands through informative and interactive commentary.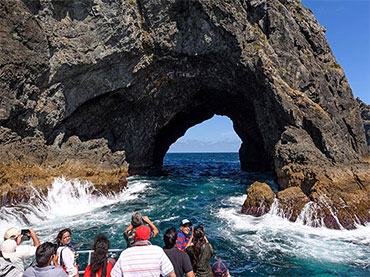 Fullers GreatSights: Dolphin Cruise to the Hole in the Rock
Cruise through the sheltered waters of the Bay of Islands on Dolphin Seeker, our purpose-built dolphin and whale watching catamaran. Cruise past many of the 144 islands and take in the sights of the Hole in the Rock and the rich history and scenery that makes up the Bay of Islands. Island stopover included as well as a bonus free ferry ticket to extend your day.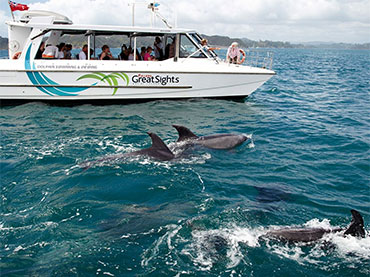 Fullers GreatSights: Dolphin Eco Experience
Get up close to view and swim with dolphins in their natural environment in New Zealand's warmest waters. Travel on a purpose-built 35-seat intimate vessel with an experienced passionate crew which will get you as close as possible to these amazing creatures. Swim is included and wetsuit, snorkel and mask are supplied. Terms and conditions do apply.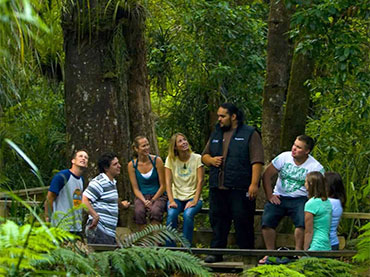 Fullers GreatSights: Hokianga Day Tour including Tane Mahuta
Journey into a unique part of New Zealand, first discovered by Kupe the voyager. Visit the 2.8 million year old Wairere Boulders and the Waipoua Forest, and meet a national icon, the mighty kauri tree Tāne Mahuta on a full-day tour from Paihia. Enjoy a lunch stop at the picturesque Hokianga Harbour.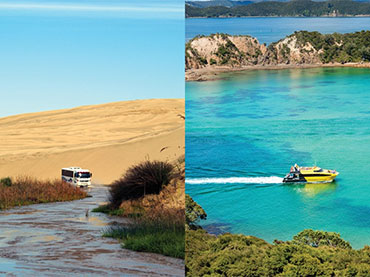 Great Value Tour Combo Deal
Hole in the Rock + Cape Reinga + Russell Passenger Ferry.
Explore the Bay by land and sea over two days, with a dolphin watching cruise and a trip to New Zealand's northernmost point, Cape Reinga. Choose either a half-day Hole in the Rock cruise and explore the Bay in search of dolphins while visiting its highlights – or get into the water and swim with these amazing creatures on a Dolphin Eco Experience cruise.